Thanksgiving is quickly approaching! Do you know what you are going to wear for the big feast? When choosing an outfit, make sure you find something comfortable, as most of you will be doing some cooking and/or cleaning. You also need to make sure it's warm so you will be cozy (unless you are in a warm place) and lastly, you need to make sure what you wear gives you breathing room to eat your little heart out!! Below are several outfit options to help inspire you… Be sure to scroll down to the bottom to watch a short VIDEO of the easiest option.
1) SWEATER DRESS – Click images below to purchase
The sweater dress is always a cozy, chic option.  You might think the waist belt impedes my eating, but au contraire… the waist belt enables me to eat and acts as sort of a corset to keep it all in!
This RL sweater dress is simple, easy to wear and sophisticated… not to mention warm!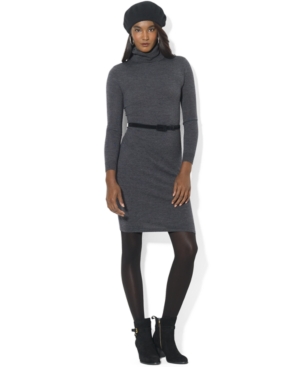 Boottights are cool because they have a built in sock to wear with ankle boots or knee high boots!
A covered wedge ankle boot is a must, very comfy and chic!
This is a cape that I own. It is great to throw on in a hurry and always looks very sophisticated. The billowy silhouette is PERFECT for an all-you-can-eat Thanksgiving extravaganza!
2) FLARED SKIRT – Click Product Images Below To Purchase

Another option, the flared skirt! The flared skirt is ideal for maximum eating. This particular skirt would conceal a four-month pregnant belly, it is so forgiving! The black turtleneck is always sophisticated, warm and slimming.  Tights pull double duty, keeping you warm and keeping your tummy in check.
Look for a fitted black turtleneck that is not too long or too bulky so you can wear tucked into your skirt or trousers.
This croc-embossed, leather belt by Ralph Lauren is reversible!
Affordable, chic python clutch!
A great bib or statement necklace really makes a big impact on your overall look. This is by Steve Madden… 3) PANTS & JACKET – Click Product Images Below to Purchase

Here is a third option…a pair of black trousers, black turtleneck and a tweed blazer.  If you don't want to monkey around with tights or belts, the skinny trouser/blazer combo is the look for you… It's practical, chic and effortless!
The blazer I'm wearing, is one of my all-time favorites by McGinn. This jacket below is by Nine West, on sale for a little over $100!
VIDEO: TURTLENECK, JEANS AND STATEMENT NECKLACE – LAST fail safe Thanksgiving outfit option
Have a very, happy Thanksgiving everyone! Thank you for stopping by BusbeeStyle.com!
I am thankful for YOU…